Our Reuse Outlet Stores are conveniently located in North and South Seattle, and provide an affordable and quality alternative to purchasing new technology. Buying refurbished can help minimize impact on our environment, and save you money, as well. Our extensive inventory includes laptops, tablets, Macbooks, smart phones, desktop computers, displays, printers, servers, network equipment, AV and stereos, and lots of parts and peripherals for the fixit person, DIY individual, or gadget enthusiast.
Did you know? According to a study published in 2011 in the Journal of Cleaner Production, the manufacture of a new laptop requires somewhere between 500-594 lbs of C02.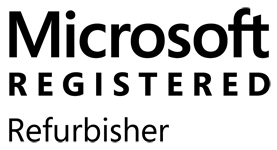 Student Discount - 10% off with valid student ID
Military Discount - 15% off with Military ID
AARP discount - 10% off for AARP members
5511 1st Ave South
Seattle, WA 98108
(206) 582-7100
Become a Facebook fan of our 3R Technology South Retail Outlet Store! We have special offers, discount prices, and news that we only broadcast to our Facebook fans!

Hours
Open 9 AM-5 PM Monday through Friday, temporarily due to the COVID-19 pandemic. We provide courtesy curbside pickup for telephone orders, and online orders from our online, or eBay store. We hope to open again soon for walk-in retail sales. Thank you for your patience.
Find out first about new arrivals, close-outs, and sale events...