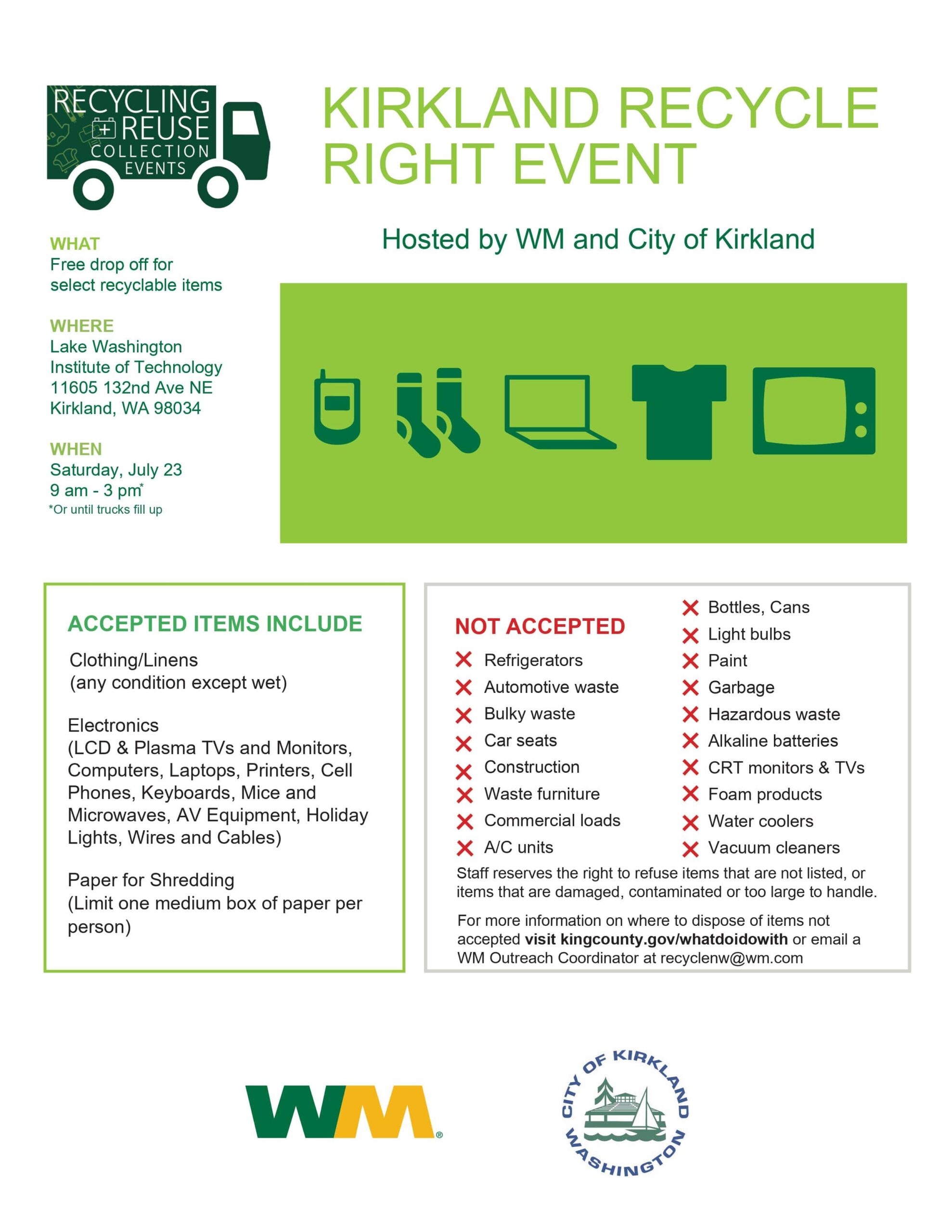 Think Green Recycling Event 2022
Recycle household electronics and old clothes, and shred confidential papers, at this free recycling event hosted by WM and the City of Kirkland.
Staff reserve the right to refuse unaccepted items or materials in unacceptable condition.
Materials accepted during event hours, or until collection vehicles are full. Note that in previous years, several trucks have filled before the close of the event.
Do not attend if you feel unwell. Do not attend if you have recently been in contact with anyone who has been exposed or tested positive for COVID-19.
What You Can Bring
Recycle Household Electronics
TVs & Monitors – LCD and plasma

Computers & Laptops

Servers & Networking Equipment

All printers, Fax Machines, and scanners

Av Equipment (DVD/VHS/Stereo units)

UPS battery backups

Telecom Equipment

Cell Phones

Keyboards and Mice

Parts, peripherals, cables, etc.

Microwaves
Electronics will be recycled by 3R Technology.
Recycle Worn Textiles
Recycle worn, torn, and stained textiles for recycling. Broken zipper? Missing the second sock or shoe? Threadbare? Give them for recycling, don't throw them away!
All textiles accepted except: wet, mildewed, bug-infested, or contaminated with hazardous materials (e.g. oil rags).
Textile recycling is collected by Us again.
Shred Confidential Papers
Shred confidential papers. Up to four file-size boxes or equivalent per vehicle. Staples are OK, no binder clips.
When you shred at an event, the paper can be recycled; home shredding must be thrown away.
Shredding will be completed by Seadrunar.
Do Not Bring
These items are NOT accepted:
NO CRT monitors or TVs – drop off at E-Cycle Washington locations

NO Styrofoam – throw away or drop off in Kent or Shoreline

NO appliances – recycle at Factoria Transfer Station

NO paint – use free drop-off locations

NO batteries – drop off at city hall

NO fluorescent bulbs – use free drop-off locations

NO hazardous waste – use free drop-off locations

NO common recyclables – recycle at Houghton Transfer Station