HOW CAN YOUR SURPLUS IT EQUIPMENT HELP CHANGE THE WORLD?
How can your surplus IT equipment help change the world?

The remaining value of your outdated IT equipment can make a tremendous difference, now and for future generations, to preserve the environment, further education, and provide opportunities for under-served communities.
We're the only R2:2013-certified IT asset disposition organization in the Pacific NW that actively purchases equipment at aggressive prices. Now we're directing our remarketing expertise and refurbishment experience towards making a difference.
Some recycling organizations claim that they donate a portion of their profit or some of the actual hardware to charitable causes. However, you are rarely informed how much of your contribution may actually reach those in need, and few or no options of which missions the donation might support. Most of the value of your contribution may end up going to overhead and to pay employees to refurbish systems that still are sold at a profit to eligible entities and individuals.
Now, you can actually see how much and choose where your valuable contribution goes, and be assured that it goes directly to organizations that are making a difference.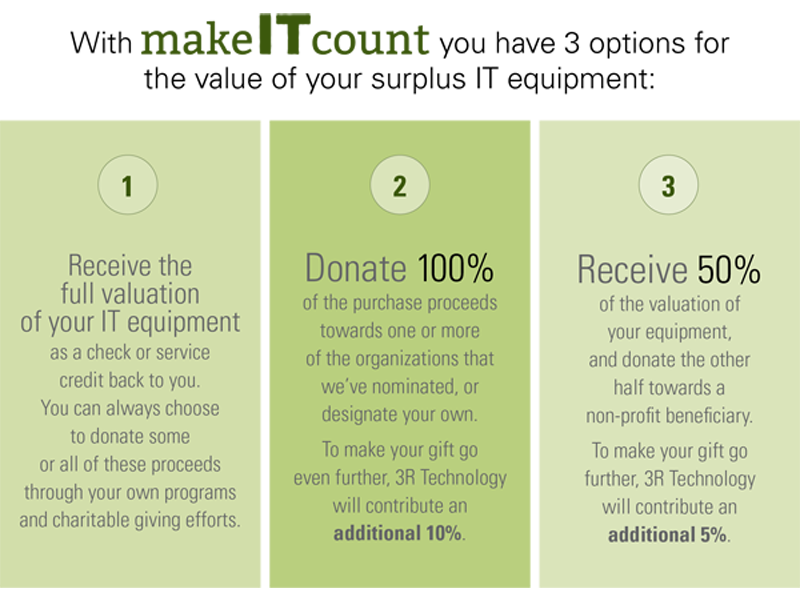 The makeITcount program also applies to any equipment on consignment with us!
You can choose one or more of the following organizations to benefit from the valuation on your behalf, or specify your own.
EarthShare Washington – Since 1987, EarthShare Washington has helped companies and employees connect with, contribute to, and volunteer for outstanding environmental and conservation organizations. We work with vetted local and national conservation charities doing the most to improve and preserve the environment around the world and here, in our own communities.
Herohouse and our supporters help people with mental illness in King County get jobs and live independent lives. It is one of two clubhouses in Washington state, one of more than 172 clubhouses in the United States, and one of 300 clubhouses in 33 countries around the world. 
HERO House has been an accredited member of Clubhouse International since 2008. In July of 2014, Clubhouse International was selected to receive the Conrad N. Hilton Humanitarian Prize. This is the world's largest humanitarian prize for extraordinary work to alleviate human suffering by helping people living with mental illness lead productive lives.
Homes of Hope India – Throughout India, Homes of Hope has transformed the lives of thousands of orphaned, abandoned, and trafficked girls. In our Homes of Hope they are loved, fed nutritious food, they go to school. They are able to regain their childhood as well as prepare themselves for the future. Girls who once came to us in ragged clothes and sadness in their souls are now nurses and office workers, fashion designers and computer programmers. They have broken the cycle of poverty.
INMED - INMED Partnerships for Children is a nonprofit international development organization that has worked in more than 100 countries to create a world where all children are safe, healthy, educated and have access to opportunities to thrive. Through our multi-sector partnerships, INMED builds effective systems that deliver innovative and sustainable approaches to break complex cycles of poverty and generate opportunities for success. Our programs in maternal and child health, disease prevention and education and adaptive agriculture/aquaponics have made a sustainable impact on the lives of millions of children and their families since 1986. 
Seattle Lighthouse for the Blind is a successful manufacturing organization committed to making jobs accessible to individuals who are blind. Their manufacturing operations center on making quality products for the Federal Government under the AbilityOne program and producing parts for aerospace manufacturers.
Trees for the Future – Planting trees provides families with more than just food. It provides income, empowerment, unity, leadership, education and even saves lives. When we can teach people to value themselves and their environment, they see amazing improvements in their standard of living. The Forest Garden Program is a simple, replicable and scalable approach with proven success. By planting specific types of trees and crops in a systematic manner over a four year period, families can change their lives forever. Forest Gardens provide families with sustainable food sources, livestock feed, products to sell, fuel wood and up to a 500% increase in their annual income.
Year Up Puget Sound – Year Up Puget Sound is a one-year, intensive training program that provides low-income young adults, ages 18-24, with a combination of hands-on skills development, coursework eligible for college credit, corporate internships, and wraparound support. We opened our doors in March 2011 and have been overwhelmed with the warm welcome and support from both corporate and community partners in the Puget Sound region. Over 15,000 young adults in the Puget Sound region do not have access to livable wage careers or higher education. Year Up students across the nation are proving that these young adults are capable of adding immediate value to local companies, and we look forward to closing the Opportunity Divide in this community.
Each year you'll receive a report from us detailing the total contributions that were made on your behalf. You will also receive a thank you letter directly from the organization or organizations that benefited with updates on how your contributions assist in their efforts towards their mission.
You may have IT equipment languishing that you don't realize still has value. Beyond just desktops, laptops, and displays – servers, storage, network equipment, telecom, and many other devices may have value that could make a difference. Contact us for a valuation and get more information about how to makeITcount!
If you are a non-profit organization wishing to be a beneficiary of the makeITcount program, please contact us.